To go further, often much information cannot be re-collected. You may be fined if you cannot produce tax-related accounting information. You cannot easily forecast future trends without past data. Warrant registrations, customer contacts, debtor information, staff time sheets and accumulated leave entitlements... The list goes on.
Traditionally, computers use tape drives to backup their data. Statistically, more than 50% of tape backups are discovered to have failed when they are required for a crucial data restore. Often this is because not enough data was saved, or not the right data.
CIS believes that one of the most robust and a reliable method of backup is with a completely separate, dedicated, backup solution across a network and onto a RAID 5 Hard disk backup solution.
All CIS Web/email and Remote backup services data is backed up in our data center from our servers to a 1.2 terabyte NAS (Networked Attached Storage) device.
To make the backup task easy and automatic, CIS offers its Online Data Backup Service using our secure, user-friendly software. The software is designed to copy versions of your important files to a private, secure location on a scheduled basis, or on-demand when you have added important files that you want protected. While the data does travel over an Internet connection, it is securely wrapped in an impenetrable 448-bit encrypted envelope to prevent any chance of unauthorized access.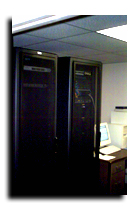 With CIS's Online Backup Service you get:
24 hour-a-day access to your data using any Internet connection
Off-site, encrypted, secure storage
Automated, background backups
Storage of multiple versions of your most valuable files
No local storage devices to configure or extra media to buy
If you have a working Internet connection on your computer, you can use CIS's Online Data Backup Service to keep your important files safe from disaster on a daily basis. The service saves each revision of your files, so you can always restore the latest, or any of the previous backed up versions (up to 30 backed up versions prior to the most recent)!
The Software


The critical component of CIS's Online Backup Service is our powerful client / user software. Simply installing the software enables your computers to easily backup and restore data securely across the Internet to our secure data warehouse servers. A "Getting Started Wizard" walks you through the simple process of configuring an automatic backup of your data. Begin securing your data within minutes! It is that easy!
Features:
Easy to use Microsoft Explorer-like interface
Getting Started Wizard to help first-time users
Silent mode runs backups invisibly in the background
Available in English, German and Dutch
FastBIT binary incremental backups for improved performance
Customizable backup sets
Automatic Online Upgrades
Supports Dial-Up Networking
Comprehensive backup scheduling options
File Selection Filters
Encryption and compression
Right-mouse click and drag-and-drop support
System Tray icon for easy access to important features
Event Manager
E-mail Notification
Customizable Toolbars
The user software has a familiar interface which makes it easy to use for all skill levels. The Event Manager will alert you in the event of a problem or missed backup, so "no news is good news!" If there is trouble, it only takes one click of the mouse to get back on the right track.
The Service
CIS's Online Backup service provides a totally invisible mode of operation that silently backs up data at scheduled intervals without interrupting your daily work...keeping assets protected and your time productive. Combined with FastBIT incremental change backup technology (which reduces repeat file backup sizes up to 95%), bandwidth and resources used are kept to a minimum. Every customers' data is stored securely encrypted on the CIS servers with super secure 448-bit blowfish encryption. All of our storage is locked behind a steel cage and under video surveillance at all times. Access to the CIS data center is protected by alarms and video surveillance.
Protect yourself in only minutes!
Our clients can protect themselves, their business, their livelihood, by simply making sure their critical data is backed-up

on a regular schedule so that they are never left in a crisis situation. It only takes a few minutes and, in about the same amount of time as it takes to check email, our clients are able to back up their files using the CIS Online Backup Service. In just a few minutes, YOU can backup your data and files and be safe and secure.
Nothing beats the peace of mind that an automated online backup solution can bring to your important business or personal data. If you want online backup, you're search is over. To get started right away with your online backup account, contact us.
Monthly - $49.95
Currently, our monthly service is a mere $49.95 for 500 MB of storage for any type of files.
Additional Storage - $20.00/Month
If you need more storage than your Base Plan allows, you can add the additional storage as part of your subscription or simply use more backup space than your Base Plan allows and we will automatically bill you $20.00 per month for any excess storage in increments of 250 MB.
Recovery CD
Up to 640 MB of your data on one CD for only $24.95 each. Get your entire backup account delivered to you on CD. Great for maintaining long term archives or accessing files when off-line.
Product Information
You can protect yourself, your business, your livelihood, by simply making sure your critical data is backed-up on a regular schedule so that you are never left in a crisis situation. It only takes a few minutes, about the same amount of time as it takes to check email, to back up your files using CIS's Online Backup Service. In just a few minutes, your data and files are safe and secure.
Frequently Asked Questions
What is an Online Backup Service?

An Online Backup Service is an Internet-based service that allows computer users to routinely backup and recover their important data using a secure and trusted server on the Internet.

If you use your computer to create and save valuable data for business or personal reasons, you should make some type of backup of your important data to prevent a total loss in the event of any kind of system failure or human error. Simple data backup can be done by saving your data to multiple locations, copying the data from its original location to removable media, another hard drive, or another computers hard drive on the network.

To make this task easier, specialized programs known as Backup Software exist to aid users in regularly making a backup copy of their data. Since some users are not interested in managing the tasks necessary for maintaining their own backups, a new breed of backup software was created, known as Online Backup Software. Online Backup software is designed to routinely copy your important files to a private, secure location on the Internet by securely transmitting your data over your existing Internet connection.

If you have a working Internet connection on your computer, you can use CIS's Online Backup Service to keep your important files safe from disaster on a daily basis.

---

I have a slow Internet connection, does it make sense for me to use Online Backup?

Depending on the speed of your connection and the size of your backup, your initial backup over the Internet may take several hours or even days. Many people with large backup sizes and slower Internet connections will often run their first backup over the weekend. Once the first backup is completed, each subsequent backup is usually a small amount of data that can be backed up in just minutes over a slower dialup connection.

Our software can also resume a canceled backup, so you can start the backup during your slow times and cancel it during your busy times. The next time you start the backup, it will pick up from where it was canceled until the entire backup is complete.

---

What files should I select?

Since your entire hard drive is likely to be much larger than the amount of storage you have purchased on the backup server, you should be selective in the files that you choose for backup. In general, you can avoid backing up any programs that you can reinstall from a purchased CD, such as Microsoft Office (Word, Excel, etc.). Why pay for storage for "stuff" you can easily re-install? Try to focus your selection on things like your "My Documents" folder and data files of your important programs like accounting, income tax, contact management, graphics etc. Your online backup software comes with predefined filters, which allow you to automatically select categories of files without knowing where all the files are located. Check the online help for Filters to learn how they can be used.

---

What happens if I exceed my quota?

In most cases, your account will allow you to exceed your paid storage quota on the backup servers. If you exceed your quota, it is likely that a message will pop-up on your screen to notify you that you have exceeded your quota and you are likely to incur an additional charge for the additional storage used. Check your pricing plan to determine the costs for additional storage. Currently, additional storage costs $20.00 per month for each additional 250 MB over your paid storage quota.

---

How do I delete files from the Backup server?

In order to control how much data is stored on the online backup server, your online backup software allows you to view all of the data stored on the server and selectively remove files from the server. To view the data stored under your account, run your online backup software and click on the folder tab labeled "Restore". In the left windowpane, Right-Click on the Desktop icon and select "Get Volume List from Server". This will show you each computer that has been backed up to your account. Now you can navigate the folders to see what data is stored on the server. To delete files, click on the button with the Red "X" to enable the Delete Files mode. Mark any files you wish to delete by clicking your mouse in the empty box next to the file(s) you wish to delete. Click the "Delete Files Now" to issue the command to delete the selected files from the server. WARNING: Once a file is deleted from the server, it can no longer be restored.

---

Can I backup more than one computer to my account?

Yes. We allow you to backup any number of computers to your account. You only pay for the storage space that you use. Your account should already be setup to allow you to backup several computers. If you have any problems backing up more computers to your account, simply call or E-mail (support@clarkinfosys.com) technical support to request additional computers on your account.

---

Should I also have a local backup in addition to my online backup?

It's up to you. Users that want an added level of protection may perform local backups in addition to their online backup. Local backups can allow you to backup ALL of your files, while the online backup is a great way to automatically store your critical files off-site. When it comes to your important data, you can never be too safe. Since everyone has different needs, you'll find a wide variety of backup software and services available to help you find the one that best fits your needs.

---

What is the Personal Recovery CD?

The Personal Recovery CD is a service that we offer which copies all of your data from our servers onto CD(s). This allows you to restore the archive of your data from a CD without requiring an Internet connection. This is great for keeping long-term archives of your data or restoring large amounts of data without connecting over a slow Internet connection. When the Personal Recovery CD is ordered, it includes all of your account data. Each CD holds approximately 650 MB, so accounts with more that 650 MB of storage will require multiple CDs.

---

How do you calculate my billing?

Monthly Billing Customers - On a monthly basis, we will compare your pricing plan to your actual storage usage and determine your costs for that month. If your storage usage is below that amount of storage provided in your base plan, no additional charges will be processed. If your storage usage is greater than your base plan amount, an additional charge is calculated based on the additional increments of storage space needed to accommodate for your storage usage for the month. A new calculation is performed every month to determine the billing total for that month.

Monthly Billing Example:
Base Plan: $49.95 per month for up to 500 MB of storage;
Additional Storage: $20.00 per month for each additional 250 MB

Scenario 1 - Actual Storage Usage = 425 MB
(Cost=$49.95; 425 MB is less than the allowed 500 MB for the base plan)
Scenario 2 - Actual Storage Usage = 725 MB
(Cost=$69.95; $49.95 for 500 MB, 1 x $20.00 for each additional increment of 250 MB)

---

How do I cancel my online backup service?

We never like to see anyone cancel their online service, but in the event you must cancel your service, please call us at (520) 458 - 0293 to speak with someone regarding the cancellation of your online backup service. An account cancellation must take place prior to the next billing cycle, which is the 1st of the month. Once an account is canceled, the data may be permanently deleted, so if you want a copy of your backups, please consider a Personal Recovery CD prior to cancellation. If you wish to cancel your account via E-mail, send a message to support@clarkinfosys.com and please provide your complete contact information including address, phone & E-mail along with your Username and Password for the online backup service

---

What do I do if I have trouble connecting to the server or performing a backup?

During business hours (8am - 5pm MST) you can call our technical support group at (520) 458 - 0293 for assistance.

---

Can I backup open and locked files with the online backup software?

A. In the case of many backup software programs, files and databases that are in use during the backup may not get backed up successfully because they are locked to prevent any other program from altering the data. To solve this problem, CIS's Online Backup can be used with the optional Open File Manager program to make sure that these open and locked files get backed up successfully.

---

What is a FastBIT backup?

A. The FastBIT patching process is the core technology behind our speedy backup service. The patching process involves the comparison of two different versions of the same file and extracting the differences between the files. When the differences are extracted from the two files, they are saved into a new file and compressed into what is known as a Patch. The patch file is often 85% to 99.9% smaller than the file which the patch was extracted from originally.

In order to perform a FastBIT backup, the software has to backup the files 3 times: the first backup is a full, the next backup will perform an incremental, and the third performs the first FastBIT backup.
Contact us to start protecting your data today!